As a photographer, I only remember using my camera bag once. I have ripped, shredded and destroyed several of my favorite purses because I've usually opted to eat my cake and have it–I hate carrying around two different bags when I try to take my camera along with me on a casual day out with friends. As a result, my bag is always bulky and the zipper is usually the first one to give up when I fill the bag with everything from umbrellas to camera gear. I'm crazy, I know. Unfortunately, this is still not a post about fancy functional camera bags on the market.
It is, however, a post about my new bag that also happens to have enough space to make the perfect camera bag.
I have been eyeing Mansur Gavriel's bucket bag for sometime now, unfortunately I spent too much time staring and less time buying and now it is completely sold out on net-a-porter. So I just sit and stare at the "sold out" message regretfully.  Well, last week I walked into Forever 21 to stock up on sweaters and there it was staring back at me. At first, I thought someone (both foolishly and carelessly) left their Mansur Gavriel bag behind the pile of clothes, then I started to notice some more on the shelves of the store, and now I started to feel foolish. I checked the specs and it was exactly the same thing–Black, red (faux) leather interior, just as stunning–the only thing missing was the brand name. I'm usually the first to express my disregard for items that look and talk like other items, but aren't quite the same, but in this case an exception was to be made, provided I told myself I want a bucket bag that is all. Okay, a bucket bag in those same colors and that style. I can't say much for how durable this item is, and I may have to be careful about putting camera gear into it, but I'm more than happy to use it while I wait for the Mansur Gavriel to restock, which is apparently in March. I already have my eye set on this one!
Check out the two bags below.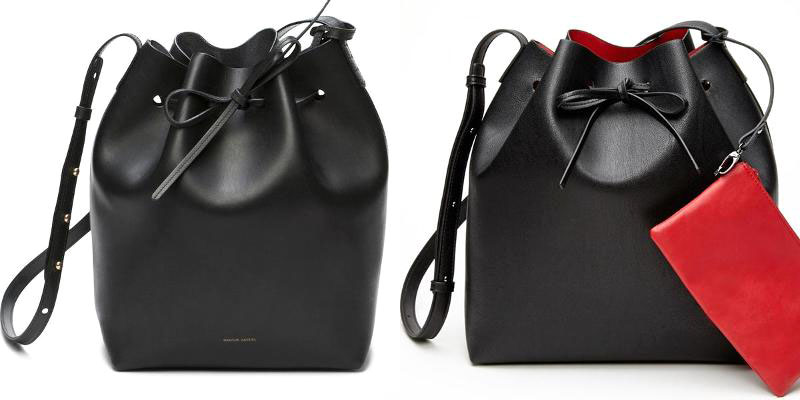 Mansur Gavriel (Left) $495, Forever 21 (Right) $29.90.  

What do you guys think? Is Forever21 downright wrong for selling what is fair to call a knockoff of the Mansur Gavriel bucket bag or do you appreciate that someone is  making this bag more affordable?